Three Early Lessons on Direct Sales from the Founder of Dell Technologies – Michael Dell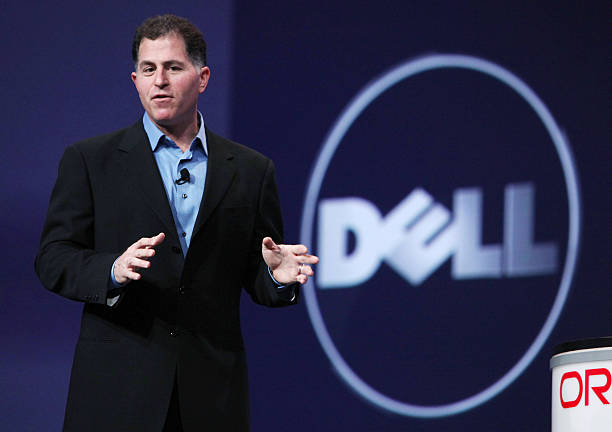 Like a lot of American kids in the early 1980s – Michael started selling subscriptions to a local newspaper. While selling he discovered:
#1 Pick up your prospects' tone: If you sounded like the people you were trying to sell a subscription to, they were much more likely to buy from you. He would talk to his prospects with a heavy Texas accent, and strike up a conversation. Results often followed.
#2 Finding your prospects: People moving into a new residence were more likely to subscribe to the paper.
#3 Segmenting your prospects: People getting married were much more likely to buy a subscription—out of excitement at settling down and beginning grown-up life.
Hear from Michael Dell in his own words:
𝘐 𝘤𝘭𝘦𝘢𝘳𝘭𝘺 𝘳𝘦𝘮𝘦𝘮𝘣𝘦𝘳 𝘵𝘩𝘦 𝘧𝘪𝘳𝘴𝘵 𝘵𝘪𝘮𝘦 𝘐 𝘥𝘪𝘥 𝘪𝘵, 𝘢𝘵 𝘵𝘩𝘦 𝘏𝘢𝘳𝘳𝘪𝘴 𝘊𝘰𝘶𝘯𝘵𝘺 𝘤𝘰𝘶𝘳𝘵𝘩𝘰𝘶𝘴𝘦, 𝘥𝘰𝘸𝘯𝘵𝘰𝘸𝘯 𝘏𝘰𝘶𝘴𝘵𝘰𝘯. 𝘛𝘩𝘦 𝘨𝘶𝘺 𝘰𝘯 𝘵𝘩𝘦 𝘰𝘵𝘩𝘦𝘳 𝘴𝘪𝘥𝘦 𝘰𝘧 𝘵𝘩𝘦 𝘤𝘰𝘶𝘯𝘵𝘦𝘳 𝘭𝘰𝘰𝘬𝘦𝘥 𝘢𝘵 𝘮𝘦 𝘭𝘪𝘬𝘦, "𝘖𝘩 𝘮𝘺 𝘎𝘰𝘥." 𝘛𝘩𝘦𝘯 𝘩𝘦 𝘴𝘢𝘪𝘥, "𝘈𝘳𝘦 𝘺𝘰𝘶 𝘴𝘶𝘳𝘦?"
𝘛𝘩𝘦𝘯 𝘩𝘦 𝘥𝘪𝘴𝘢𝘱𝘱𝘦𝘢𝘳𝘦𝘥 𝘧𝘰𝘳 𝘸𝘩𝘢𝘵 𝘧𝘦𝘭𝘵 𝘭𝘪𝘬𝘦 𝘢𝘯 𝘩𝘰𝘶𝘳 𝘢𝘯𝘥 𝘤𝘢𝘮𝘦 𝘣𝘢𝘤𝘬 𝘤𝘢𝘳𝘳𝘺𝘪𝘯𝘨 𝘵𝘩𝘦𝘴𝘦 𝘩𝘶𝘨𝘦 𝘣𝘰𝘰𝘬𝘴.
𝘈𝘯𝘥 𝘐 𝘵𝘩𝘰𝘶𝘨𝘩𝘵, 𝘑𝘢𝘤𝘬𝘱𝘰𝘵.
𝘐𝘯 𝘰𝘯𝘦 𝘴𝘵𝘳𝘰𝘬𝘦 𝘐 𝘩𝘢𝘥 𝘨𝘰𝘯𝘦 𝘧𝘳𝘰𝘮 𝘵𝘩𝘦 𝘩𝘪𝘵-𝘰𝘳-𝘮𝘪𝘴𝘴 𝘰𝘧 𝘤𝘰𝘭𝘥 𝘤𝘢𝘭𝘭𝘪𝘯𝘨 𝘵𝘰 𝘥𝘪𝘴𝘤𝘰𝘷𝘦𝘳𝘪𝘯𝘨 𝘢 𝘨𝘰𝘭𝘥 𝘮𝘪𝘯𝘦 𝘰𝘧 𝘱𝘦𝘰𝘱𝘭𝘦 𝘸𝘩𝘰 𝘸𝘦𝘳𝘦 𝘸𝘢𝘺 𝘮𝘰𝘳𝘦 𝘭𝘪𝘬𝘦𝘭𝘺 𝘵𝘩𝘢𝘯 𝘯𝘰𝘵 𝘵𝘰 𝘴𝘶𝘣𝘴𝘤𝘳𝘪𝘣𝘦 𝘵𝘰 𝘵𝘩𝘦 𝘱𝘢𝘱𝘦𝘳.
𝘈𝘵 𝘧𝘪𝘳𝘴𝘵 𝘐 𝘩𝘢𝘥 𝘵𝘰 𝘴𝘪𝘵 𝘵𝘩𝘦𝘳𝘦 𝘢𝘯𝘥 𝘸𝘳𝘪𝘵𝘦 𝘥𝘰𝘸𝘯 𝘦𝘷𝘦𝘳𝘺 𝘯𝘢𝘮𝘦 𝘢𝘯𝘥 𝘢𝘥𝘥𝘳𝘦𝘴𝘴. 𝘉𝘶𝘵 𝘵𝘩𝘦𝘯 𝘐 𝘳𝘦𝘢𝘭𝘪𝘻𝘦𝘥 𝘐 𝘤𝘰𝘶𝘭𝘥 𝘣𝘳𝘪𝘯𝘨 𝘪𝘯 𝘮𝘺 𝘵𝘳𝘶𝘴𝘵𝘺 𝘈𝘱𝘱𝘭𝘦 𝘐𝘐 𝘱𝘭𝘶𝘨 𝘪𝘵 𝘪𝘯, 𝘢𝘯𝘥 𝘵𝘺𝘱𝘦 𝘪𝘯 𝘢𝘭𝘭 𝘵𝘩𝘦 𝘪𝘯𝘧𝘰.
𝘈𝘯𝘥 𝘵𝘩𝘦𝘯 𝘪𝘵 𝘩𝘪𝘵 𝘮𝘦 𝘵𝘩𝘢𝘵 𝘵𝘩𝘦𝘳𝘦 𝘸𝘦𝘳𝘦 𝘴𝘪𝘹𝘵𝘦𝘦𝘯 𝘤𝘰𝘶𝘯𝘵𝘪𝘦𝘴 𝘴𝘶𝘳𝘳𝘰𝘶𝘯𝘥𝘪𝘯𝘨 𝘏𝘰𝘶𝘴𝘵𝘰𝘯, 𝘵𝘩𝘦𝘺 𝘢𝘭𝘭 𝘩𝘢𝘥 𝘤𝘰𝘶𝘳𝘵𝘩𝘰𝘶𝘴𝘦𝘴, 𝘢𝘯𝘥 𝘦𝘷𝘦𝘳𝘺 𝘤𝘰𝘶𝘳𝘵𝘩𝘰𝘶𝘴𝘦 𝘩𝘢𝘥 𝘳𝘦𝘤𝘰𝘳𝘥𝘴 𝘰𝘧 𝘮𝘢𝘳𝘳𝘪𝘢𝘨𝘦 𝘢𝘱𝘱𝘭𝘪𝘤𝘢𝘵𝘪𝘰𝘯𝘴. 𝘑𝘢𝘤𝘬𝘱𝘰𝘵 𝘵𝘪𝘮𝘦𝘴 𝘴𝘪𝘹𝘵𝘦𝘦𝘯. 𝘐 𝘩𝘢𝘥 𝘸𝘩𝘦𝘦𝘭𝘴, 𝘐 𝘩𝘢𝘥 𝘢 𝘤𝘰𝘮𝘱𝘶𝘵𝘦𝘳, 𝘢𝘯𝘥 𝘐 𝘩𝘢𝘥 𝘧𝘳𝘪𝘦𝘯𝘥𝘴. 𝘚𝘰 𝘐 𝘩𝘪𝘳𝘦𝘥 𝘮𝘺 𝘩𝘪𝘨𝘩 𝘴𝘤𝘩𝘰𝘰𝘭 𝘣𝘶𝘥𝘥𝘪𝘦𝘴 𝘵𝘰 𝘵𝘳𝘢𝘷𝘦𝘭 𝘵𝘰 𝘢𝘭𝘭 𝘵𝘩𝘰𝘴𝘦 𝘤𝘰𝘶𝘳𝘵𝘩𝘰𝘶𝘴𝘦𝘴 𝘢𝘯𝘥 𝘨𝘦𝘵 𝘢𝘭𝘭 𝘵𝘩𝘢𝘵, 𝘢𝘯𝘥 𝘵𝘩𝘦𝘯 𝘐 𝘤𝘰𝘯𝘥𝘶𝘤𝘵𝘦𝘥 𝘢 𝘮𝘢𝘴𝘴𝘪𝘷𝘦 𝘥𝘪𝘳𝘦𝘤𝘵-𝘮𝘢𝘪𝘭 𝘤𝘢𝘮𝘱𝘢𝘪𝘨𝘯, 𝘴𝘦𝘯𝘥𝘪𝘯𝘨 𝘴𝘶𝘣𝘴𝘤𝘳𝘪𝘱𝘵𝘪𝘰𝘯 𝘰𝘧𝘧𝘦𝘳𝘴 𝘵𝘰 𝘦𝘷𝘦𝘳𝘺 𝘺𝘰𝘶𝘯𝘨 𝘮𝘢𝘳𝘳𝘪𝘦𝘥 𝘤𝘰𝘶𝘱𝘭𝘦 𝘰𝘯 𝘵𝘩𝘢𝘵 𝘩𝘶𝘨𝘦 𝘭𝘪𝘴𝘵.
Taken from #MichaelDells #PlayNiceButWin Link to book: https://www.amazon.in/Play-Nice-But-Win-Journey-ebook/dp/B08VWFW56N
#LeadStrategusTalks #sales #directsales #database #marketing #directmarketing