Our focus is on making the Sales & Marketing efforts of corporates more effective – much more effective – than they currently are.
To do that, we help companies strategize, research, brand, communicate, generate & drive leads/ opportunities – the entire Go To Market – with a single minded focus on effectiveness & ROI.
Our work includes setting up and running Sales & Marketing Engines, Market Intelligence, Thought Leadership, Lead Generation & Management, Tele, Inside Sales, Social Selling & Content Marketing programs that deliver responsible & actionable advice that take off the heavy lifting for CEOs, CMOs, & CSOs. We also diagnose, coach, do workshops to improve bottlenecks in current sales & marketing operations.
The exciting times we live in motivate us & drive us. Never was the opportunity to impact so many-available to so many of us. Never in history has the bar of making a difference – being an entrepreneur – so low!
We combine the constant change in the frenzied invention & reinvention of the post- social & media disintermediation world we live in, with timeless principles of The Gita & The Art of War.
At LeadStrategus we have set out to impact Sales & Marketing of our B2B customers. For us, the things that keeps us awake at night is – how can we make our customers seize the day?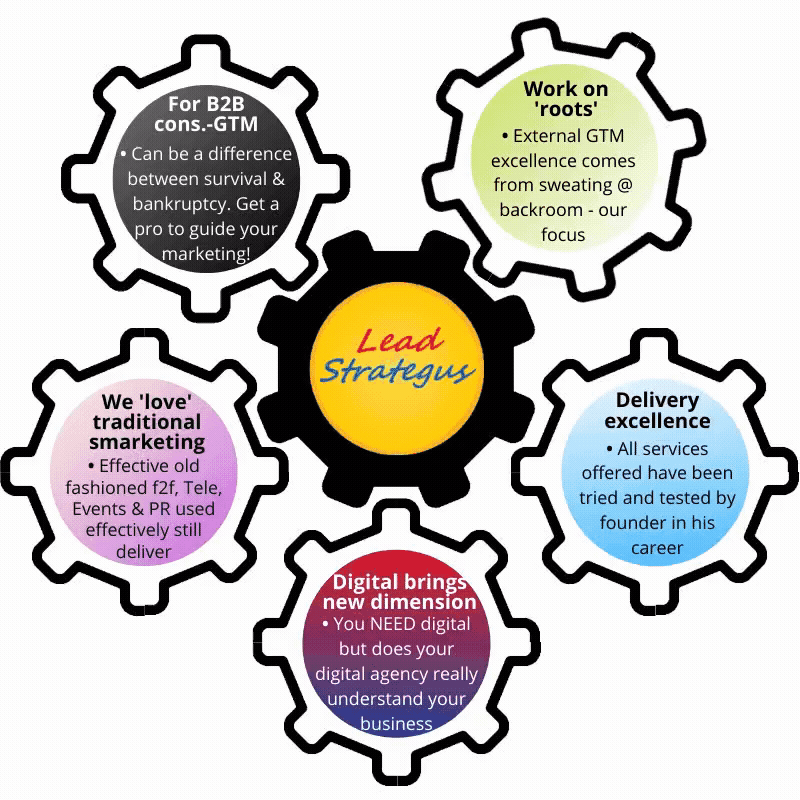 Kingshuk is the founder of LeadStrategus. Kingshuk has been marketing/BD/Advisory employee #1/2 in companies like AWS, SAP, Gartner, Pluralsight, Oracle Consulting while they were starting out in India – setting up powerful Demand Generation /Thought Leadership programs. He was previously Head Marketing for Amazon Web Services India with a heritage of progressively senior responsibilities across Marketing, BD Analytics, & Advisory deliverables across SAP, Oracle, IBM, Gartner, Pluralsight & IMRB. He is a Stats graduate & MBA from IIFT.
Anindita is the co-founder of LeadStrategus. She currently works on Capability Development and Transformation projects in the field of Sales, Marketing & Human Resource Development. In the past she has worked as a HR and OD Consultant with Randstad where her scope of responsibility included creating and designing HR processes. She had also had the opportunity to Head and anchor HR Business Partner roles in Pharma, Logistics and IT organizations. She is an MBA from XISS & Zoology grad.