What is Virtual Quizzing & why now?
Quizzing is a powerful engagement channel. Did you know that quizzes are awesome lead generation, learning & engagement tools?
Now, as most people are working from home, reaching out to prospects/customers digitally is the only channel left. Companies are trying different things – virtual meetings, webinars, videos in emails, upping their social media engagement. While all of them have their benefits, a well designed & moderated quiz on an interactive platform like Kahoot/Mentimeter can not just gather a large audience, but also keep them highly engaged & motivated!
What is Virtual Quiz-as-a-Service(QaaS)?
Our Quiz-as-a-Service allows you to host a quiz on a topic related to your business & for your target audience without worrying about any of the logistics involved in setting it up.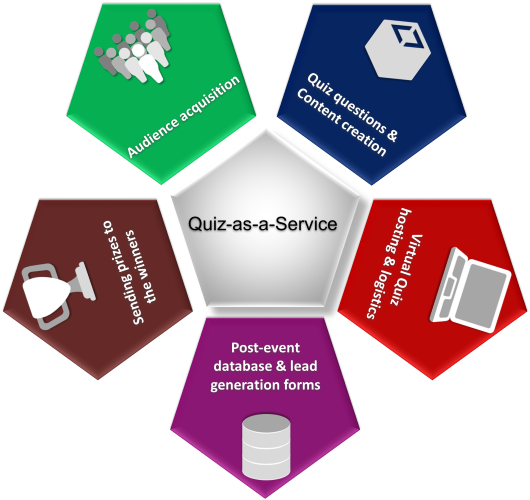 We take care of everything:
Audience acquisition
Quiz questions & content creation
Virtual Quiz hosting & logistics
Post-event database & lead generation forms
Sending prizes to the winners
Being a Demand Generation firm, we bring the experience & the knowledge to do high impact quizzes with quick turnaround time. We do quizzes regularly and get over 100 attendees for our own quizzes! We have expertise in buyer personas, social media management, and campaign management across channels.
We take care of all the nitty-gritty of running a quiz for you. Whether you plan to promote your quiz online, or on your website, or using your email list, or on social media – be it Facebook or Instagram or LinkedIn or Twitter, we've got you covered!
All you need to do is walk in like a showstopper, host your quiz, and walk away with a thundering ovation! Of course, with business close in line!
Can't wait to host your first quiz online? Get in touch for a no-obligation consultation!