What is Intent based Account Intelligence?
During pipeline build or sales closure – how many times have you wished that you could find those opportunities that are showing interest in the solution 'I am selling' or whether a prospect is already conversing on 'mine/ supplementary solutions or which prospects have been researching my category'?
Today, using some
Wonderful public & privately available technology & techniques
Open-sourced publicly available tracking information
Deep dive Social Media & Google research
Public & private databases
Predictive analytics
We can get significant insights & intelligence that can get you the needle in the haystack or reduce your sales cycle significantly by getting to the right prospects first.
Why Intent based Account Intelligence now?
In the shadow of COVID-19 where face-to-face selling has become rarer – reading the digital & social tea leaves & bread crumbs has become vital!
Get your Sales team an unbeatable competitive advantage of working on pre-culled account intelligence.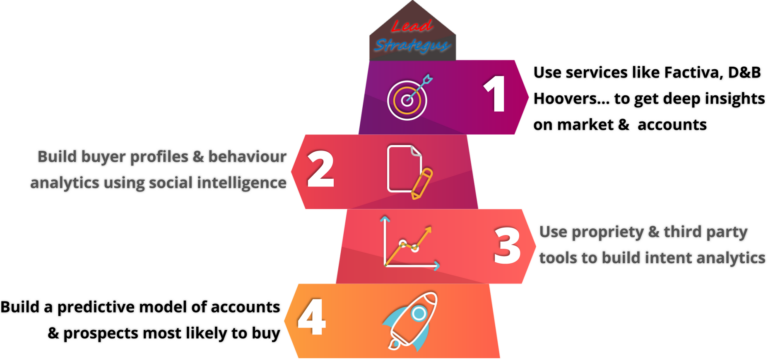 As a Demand Generation firm that has its origins in researchers – we bring the experience & the knowledge to develop market entry strategies using the most effective tools & techniques from our quiver.
We have been doing intent and predictive analytics right since we started from some of the biggest & the smallest companies on the planet.
For one of our customers, we have created a bulletproof prioritisation strategy of their target audience – ET500 and highly funded startups in India. For another, we identified the top 100 accounts to target in the country & for each account, we built the IT landscape & speaking points for AEs in each account – giving them actionable intelligence they weren't aware of in their owned accounts!
Want to build an intelligence based pipeline fast?
Get in touch for a no-obligation consultation!