What is webinar-as-a-service?
Webinar-as-a-service allows you to host a webinar in a topic & for an audience of your choice without worrying about any of the logistics. We take care of all the responsibilities of running a webinar for you. Here we will do:
The audience acquisition,
The content creation (even speaker acquisition – should you need external speakers),
Webinar logistics, &
Post-event database & messaging
In fact, webinars give more organized control to speakers and make an interactive experience for webinars – do Q&A, conduct quizzes & polls and much more.
Why webinars-as-a-service now?
In the shadow of COVID-19- with practically every event getting canceled, all your decision-makers working from home, digital is the only channel left to reach out or communicate with prospects/customers.
Now getting the audience/managing the webinar logistics is a challenge – we take care of all the logistics & can quickly do this for you in a heartbeat.
Pre:
Presentation & speaker notes (if needed).
Poll Questions.
Sending Invites.
Topics covered in timeline sequence and Key takeaways.
Volunteer and conduct webinars.
Post:
Sending out resources to the audience (if requested).
Summarizing the webinar to text.
Editing the webinar (if needed) and uploading.
Webinar reports: Number of people attended, their LinkedIn profile, if any question asked & if so then what question,…..
IF NEEDED: May repurpose to Podcast and entry to premium WhatsApp group.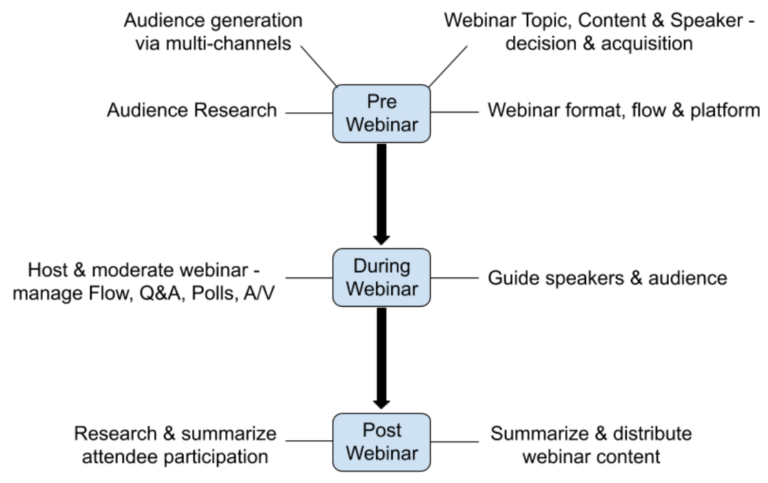 We bring some unique advantages in doing webinars:
We have been curating & creating everything from 100+ pax events to intimate CEO roundtables – both in the physical & digital worlds – using our LinkedIn connects & messaging; our know-how of content & audience preference; & our personal connections.
We have been experimenting with all the top webinar platforms & know their intricacies, strengths & weaknesses
We have been doing webinars & events right since we started out. Our founders have been involved in doing large scale events & webinars & tweet-chats for companies like SAP, AWS, Pluralsight.
Thinking of how to do high-quality webinar quickly & don't know where to start? Get in touch for a no-obligation consultation!