What is Open Source Intelligence?
Data data everywhere!
But not a drop to act on!
We are all swimming in the vast ocean of data. And there is a high chance that the waves of ever-expanding and continuously changing data slam you down & make you lose sight of what you are looking for: 'actionable insights'.
Looking for those actionable insights is like finding the needle in a haystack which can answer hundreds of questions like:

1. Who are your real buyers?
2. Which is the best market for your product?
3. Where can you find the buyers who are genuinely interested in your product/ service?
4. How do you reach out to those buyers?
5. What message do you give them which allows you to get their intent?
Starbucks religiously tracks cultural trends & monitors social media to eliminate competition.
Verizon became the customer's choice when it was the first company to offer number portability after researching what its customers wanted.
We define Open Source Intelligence (OSINT) as a multi-factor (qualitative & quantitative) methodology for collecting, analyzing, and making decisions about data accessible in publicly available resources to be used in an intelligent context.
OSINT lets you translate the existing data into actionable insights to make better decisions for:
1. improvising/ adding new service lines
2. understanding critical priorities
3. developing strategies based on current sentiments

Why do Open Source Intelligence now?
It's time, you stop reading success stories & create your own!

The way we live & work has changed drastically in the post-Covid new normal era. Customer demands & the resulting business models are collapsing & new ones are getting built in front of our eyes.

The answer is out there. There is a huge amount of market, customer & account data out in the social medial world & behind the proprietary databases.

So, why should your insight-making function stay behind?

Such insights for strategic decision-making in business are just around the corner yet seem so elusive!

Our highly skilled researchers & futurists will get you these actionable insights – using a mix of Proprietary Database Search, Social Intelligence, Wargaming & old-fashioned digging around.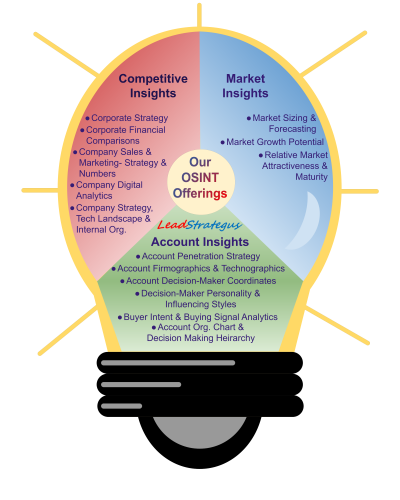 Finding a needle in a haystack is not enough! To get real & actionable insights, one must look for multiple needles across infinite haystacks (considering the amount of data being generated every moment). However, extracting those critical insights can seem like putting a rope through the needle/s that you just found!
Yes, it is very challenging and that is why we are there for you!

We ace at not just digging out in-depth insights but also delivering data storytelling for our clients ranging from nimble startups to Fortune 500 companies.

1. We have been doing this for Fortune 500 companies, nimble born-in-the-cloud startups, forward-thinking firms across India, ASEAN, China, & North America.
2. Our founders and each of our team members has this research and growth heritage & culture.
3. We are the consultants' consultant. Premier consulting firms come to us for their sales+marketing OSINT requirements.

Get in touch with us today to tame the wave of quick-shifting data to better your decision-making!