Framework Summary
Are you convinced that Social Selling is the way to go – and want your entire sales team upto speed &  enabled in Social Selling? Some ideas & a basic framework to enable Social Selling in your sales organisation:
Understand 4 stages of Social Selling journey at a personal level: Beginner => Professional => Extrovert => Content Thought leader => Maestro – and become the maestro yourself.
Understand how the 4 stages of Social Selling impact the core sales processes: CRM & automation, Content, CPQ, Outreach + influence + progress, intelligence, measurement.
Draw out new sales processes to reflect the changes – keeping measurement & KPIs at the core.
Offer training & mentoring to teach the sales team. Or better still gamify the experience.
Integrate at the end using technology. Remember tech. flows should support business processes – not the other way round!
#LeadStrategusSocialSelling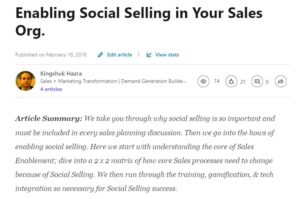 LinkedIn Article expanding Social Selling Framework
#LeadStrategusSocialSelling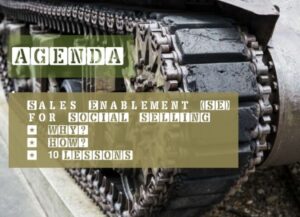 Slideshare deck explaining why & how of  enabling Social Selling 
Enabling Social Selling – Why? How 10 Lessons?